Sophie Beaumont, Pennine Acute Hospitals NHS Trust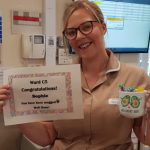 Newly qualified nursing associate Sophie Beaumont, 27, tells us how she completed her studies at University of Salford while working on the COVID ward at Pennine Acute Hospitals NHS Trust. Having been commended by the lead nurse for her treatment of a COVID patient receiving end of life care, she reflects on her experience.
"I wouldn't look back on hairdressing. This job was made for me; I just love helping people. If you have a kind and compassionate nature, then go for it."

Sophie Beaumont, Nursing associate
What were you doing previously and why did you want to become a nursing associate?
I started out as a hairdresser, but nursing had always been a dream of mine so, after becoming a parent, I took the plunge to change careers. I had had some exposure to healthcare previously as my mum is a specialist nurse and I'd volunteered for Macmillan with her. I love helping people; I'm a kind and caring person so healthcare suits me.
I was looking for a support worker role to get some experience on the wards and I found the nursing associate role, which looked like it would suit me better as I'd be learning on the job.
How were you finding the course before the COVID-19 pandemic?
I enjoyed it all! The best thing about being a trainee nursing associate was that I had more time to spend with patients. I feel that the patients have a better journey because there are more people involved in their care. I received a lot of support throughout the course – the practice based clinical educators were always available to support me.
How were you initially affected when the pandemic was declared and how was your course adapted?
I was in the final stages of my course when the pandemic was declared. I was on my last placement within community services and was reassigned to join the nursing team on a designated COVID ward. I was able to carry my placement hours over to the COVID ward. There was a broad skills-mix on the ward, including nurses from a range of specialities. I learnt lots from them and feel that they also learnt from me!
I communicated with the university online and had group chats with other trainee nursing associates (TNAs) in my cohort, so we've all supported one another. I received my final assessment sign-off via Microsoft teams and I'm now proud to be a registered nursing associate!
How has your role changed to support COVID-19?
At the beginning of the pandemic everyone was quite nervous, but we've had lots of support. I've consolidated the skills I developed in delivering end of life care. At first it was emotionally challenging. On my first week, unfortunately several patients passed away on the same day, which was distressing, but we received good support from the palliative care team.
We were a brand new team that was brought together and everyone has played a part to support patients, their families and each other. I believe that the team has gone above and beyond and cared for patients with a holistic approach in such uncertain times.
There's been lots of support on the wards. We have safe space, called 'The Sanctuary', which allows staff to have a break out of their work area if they need to have some quiet time. The organisation has also created a support role called 'Cygnets', who are there to support patients at their end of life. The ward manager has been very supportive of us all.
We have definitely learnt more about how to treat patients with COVID. Our hospital specialises in infectious diseases and the research team has been actively supporting the expansion of our knowledge of COVID. It has been quite challenging at times, but we make sure we reflect and debrief regularly. Everyone is working together as a team and looking after one another.
To help keep morale up, I've been bringing in hearts and poems that my six-year-old niece has drawn or written. We also put Manchester bees [an emblem for the city] on a tree every time a patient is discharged from the ward, to celebrate their recovery.
Can you tell me about a particular patient you treated on the COVID ward?
It was my first week on the ward and I was allocated to care for a patient who was in a side room. I requested a medical review from the ward doctor because I had assessed changes in her breathing, and it was confirmed that her condition had become terminal. As a team we decided it was now appropriate to call her family to come in to say goodbye.
The patient's husband came in with their young daughter, who was understandably upset. I have a daughter around the same age so, as a mother, my instincts kicked in and I asked for PPE for the child, so that she could to say goodbye to her mum.
It was upsetting to see, but one of the ward sisters comforted me. We were both upset. It was strange because we had never met before, but we were there for each other and helped comfort the little girl.
I had a couple of days of planned leave afterwards. That's when the reality of the coronavirus hit me. However, when I had time to reflect, I realised that I was glad to have been able to help the patient and her family at such a difficult time.
How did your nursing associate training prepare you for working in the COVID ward?
My nursing associate training really helped to build my confidence in acute settings both in theory and in practice.
In my first year, I had an extremely helpful lecture around symptom control and facilitating person-centred palliative care. I also completed a module in adult intensive care and did Acute Illness Management (AIMS) training within the trust.
I had lots of opportunities to learn on my placements. I choose to spend some of my practice learning time theory (PLT-T) with the outreach nurses, who visit patients who have been 'stepped down' from critical care, and some with specialist nurses, sitting in on conversations with families about issues like cancer diagnosis. After seeing each patient, the nurse would have a debrief with me, which helped me understand how to communicate difficult news.
Having been at the receiving end of grief and death growing up, I understand that this is inevitable for everyone. Knowing that I helped facilitate a patient and family to achieve a good death gives me a sense of comfort.
What do you think you're learning during this extraordinary time?
I've built a lot of resilience working on the COVID ward and have learnt a lot about myself and how strong I am. I thought this was going to break me, but it hasn't. If I can come back from something like this then I'll be a better nursing associate. I've also learnt leadership skills as I've had to speak up and advocate for patients.
What are your career plans?
I would love to go forward in my career and specialise. I had a placement on ICU and loved every minute of it. My next step will be to train as a nurse.
What would you say to people considering a career as a nursing associate?
I wouldn't look back on hairdressing. This job was made for me; I just love helping people. If you have a kind and compassionate nature, then go for it.
Read the full case study, including hearing from Helen Hunt, Lead Nurse and Janine Archer Head of Apprenticeships & Programme Lead at University of Salford on the Health Education England website.