Kelsey Bellchambers, Trainee Nursing Associate, MacIntyre/London South Bank University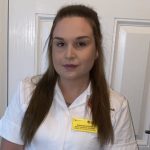 First year trainee nursing associate Kelsey tells us about her experience on the apprenticeship at MacIntyre, a learning disability charity, during the COVID-19 pandemic.
What were you doing previously and why did you want to become a nursing associate?
Prior to starting the trainee nursing associate programme, I was a support worker at MacIntyre. I've worked here for over six years in a residential care home for adults with learning disabilities.
My area manager at the time alerted me to the nursing associate role. I had always been interested in nursing, but I didn't know 100% if it would be for me. The trainee nursing associate course seemed like a good way to get into healthcare.
How were you finding the course before the COVID-19 pandemic?
Prior to the pandemic, the course had been going really well. It was nice meeting up with the other trainees, who are from all different settings, and hearing about their day-to-day work. I'm the only one in my cohort in a non-clinical setting.
For my placements so far, I've been to a rehabilitation centre for the NHS and Great Ormond Street Hospital (GOSH). They were really interesting because they were so different to my environment here, especially at GOSH, where I gained more skills in working with children.
How has your course been adapted during the pandemic and how has the university supported you to continue your studies?
Initially, my placement at GOSH was cut short by a week and I came back to my employer. Now, we have online lectures every week with the whole cohort and use a site called Moodle to access our learning resources. We've been emailing our tutors questions and getting feedback; they've been supportive. As I missed one placement this year, I will be doing four placements next year.
How has your role changed to support COVID-19? What is it like, day to day?
At the beginning there was a lot of uncertainty about what the coronavirus was. But as the weeks went on and knowledge developed, we all pulled together as a team. We worked well with each other to provide good care, regardless of what else was going on.
For the people we support it's a big change because as staff we have to wear personal protective equipment (PPE), which means that they can't lip read and its more difficult to read our facial expressions.
We've explained that there's a bug going around, and we don't want them to catch it because it can make them poorly.
We had to stop people going to the day centre, a social facility, to limit their risk of catching the virus. Usually they can go out on day trips, access music sessions, art and the sensory room.
Some of these services, like music therapy, have gone online. We also hold activities in the garden like football, bowling, arts and crafts. We go out on walks, but we all have to wear a mask, which is frustrating for them. For the most part, they've adapted really well though.
For anyone showing symptoms of COVID-19, I carry out some of the assessments, such as breathing, blood pressure and temperature. I then feedback to other staff and call 111 or the GP. I monitor the person's health and other staff can contact me if they have any concerns or are unsure of what to do.
How has your employer supported you during the pandemic?
I have an outside assessor who would normally observe me doing my clinical skills. During this time my manager has done this assessment and we've spoken to the outside assessor online. I've had support from district nursing to meet my learning outcomes.
My manager and senior support worker have supported us to do COVID-19 tests for the staff and the people we support. The GP service and 111 and have been a great support to us here.
What do you think you're learning during this extraordinary time?
At the moment because I've been leading shifts and leading the team, it's definitely developed my skills in terms of supporting the staff as well as having my own workload.
At the beginning of the pandemic I learnt the symptoms and signs of someone who might have coronavirus and when to call 111. With the other staff and the people we support, it's important to keep them calm.
What are your career ambitions?
I've always wanted to go into learning disability or mental health nursing, so it's something that I'd want to continue. I know that hospital can be an upsetting experience for people with mental health issues or learning disabilities so if I can support them with that, that would be an amazing opportunity.
What would you say to people considering a career as a nursing associate?
I would say go for it. It definitely develops your knowledge and your skills, especially when it comes to learning disabilities. Through going out on different placements in different environments, this course can open your eyes to see the many different areas you can get involved with.
Hannah Crampton, Frontline Manager at MacIntyre says: "Kelsey's support has been instrumental during this pandemic. Her skills and knowledge gained from her nursing associate training have aided the service in terms of monitoring people's changes in health, taking the lead in liaising with GPs and supporting people who have shown symptoms of COVID-19, through monitoring and reporting. She has also advised and supported her colleagues, as they support people's changing health and wellbeing support needs."
About MacIntyre
MacIntyre is a leading national charity, providing learning, support and care for more than 1,200 children, young people and adults who have a learning disability and/or autism across England and Wales.