Jamaia Debbage, James Paget University Hospitals NHS Foundation Trust/University of East Anglia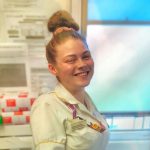 Second year trainee nursing associate Jamaia Debbage, 19, talks about her experience on the apprenticeship during the COVID-19 pandemic at James Paget University Hospitals NHS Foundation Trust and University of East Anglia. She describes how she has been put in at the deep end and had more opportunities to learn during the pandemic.
What were you doing previously and why did you want to become a nursing associate?
Prior to starting the nursing associate programme, I was at sixth form college and volunteering at James Paget Hospital. I had always wanted to be a nurse, but I didn't want to go to university full time. I learn better in practice, so having one day at uni alongside four days out learning on the job on the nursing associate programme suits me well.
How were you finding the course before the COVID-19 pandemic?
I had been really enjoying the course and was alright with the academic side of things.I've done two placements: one in the community and one in oncology and haematology. When I was on the oncology placement, they encouraged me to ask more questions.
On the community nursing placement, I became more confident. I was supervised by one community nurse but they're showing you how you would make decisions if you were on your own, so I had to make more decisions.
How has the COVID-19 pandemic affected your course?
When the pandemic hit, I was on a placement in the community and had to come back to work at the hospital.
I work in orthopaedic trauma, which includes a lot of pre and post op patients. When I came back, over half the staff were off sick with coronavirus, including all of the sisters. I got put in at the deep end and had more opportunities to learn.
At the start of the pandemic every patient on the ward had COVID so we became a COVID ward for a while. It was completely different. Often you felt like you were just dealing with the COVID side of things. At that point you couldn't even go into the bay and do a bit of paperwork without putting on full personal protective equipment (PPE).
In the beginning everyone was a bit scared, but it brought the staff closer together. We felt like a little family and had each other's backs.
I feel like I'm good at talking to patients. I think the one day a week at uni where we discuss everything has benefited me with talking to patients and relatives.
How has your employer supported you?
The wellbeing team rings the ward every day to check in on us. The sisters on the ward are very supportive and you feel like you could go to any member of staff with anything, which is really nice.
How has your course been adapted to enable you to continue your studies?
At the moment, we do live online classes, which is helpful so you can still ask questions. I feel the online classes are better in some ways, because I've got fewer distractions and can concentrate more.
What do you think you're learning during this extraordinary time?
I've learnt how quickly things can change and how we adapt so quickly to new things. Now I can't imagine not wearing a mask! Every day a piece of guidance within the hospital has changed and we've had to keep on top of it.
What are your career plans?
I will qualify in February 2021 and plan to be a nursing associate for a year then apply for the top up course to train as a nurse. I'd love to work in A&E because you get to see a lot of variety.
What would you say to other trainee nursing associates?
A lot of trainee nursing associates are quite stressed with trying to work and do assignments from home. We're too hard on ourselves and we need to remember that we're doing all we can.
What would you say to people considering a career as a nursing associate?
Go for it! It's definitely one of the best things I've done.