Lyndsey Hope – University of Salford Trainee Nursing Associate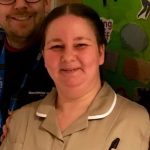 What have you learnt as a NA/TNA?
Since enrolling to be a TNA with MFT my learning experience has been endless. Training on the job along with academic studies has enhanced important nursing skills such as: as Communication, Health promotion and how to Identify /manage a deteriorating patient. All of which are fundamentals of nursing. I have been exposed to medical/surgical/recovery areas which have allowed diversity in my practical/theoretical training where I have become able to care/alongside my mentor for post-surgery. Some of which are extremely unwell patients requiring HDU/ICU follow up care.
Compassion/understanding and sympathy are immensely important and core to the NMC code, this is not something I have learnt once/reflected for one day, but is carried with me each and every day and instilled in my work/home life.
I have also learnt "TEAM-WORK" is important. To be compassionate, sympathetic understanding is equally important to our work colleagues/uni friends. Lending a hand, asking "Are you ok?" or even a simple smile can change things.
What would you say to anyone who's worried about how much they'll have to learn? 
Take each placement /module as it comes. Be organised! At home and at work. It can be a challenge it doesn't matter if you are a mother with young children/home/husband like me, or someone with as many commitments we all have our own worries, but with organisation and determination you will find time. You are never on your own if you don't understand something ask !
What's been the best thing in your TNA/NA journey?
The people I have met!
Work colleagues, patients, clinical educators and not to mention my university friends. My placements have been amazing!!!! and strangely studying ….
What would you say to somebody who's interested in becoming an NA/TNA?
Go for it!
What an amazing time to enter the caring profession. You will learn new skills skills/enhance old skills. You get to study; you get to work alongside excellent nurses, care support works, doctors and other members of the MDT. You can write history a new era in nursing is being nurtured who wouldn't want to be a part of that? You make new friends in work and university. But most importantly you get to make a difference to a patient; you can support a patient when they need it most. A patient world may be crashing down around them but you! may be the one person who is there when they need it the most.
Can you sum up in one sentence what's so special about being a NA/TNA?
"The possibilities and diversity in the care we can provide"

Lyndsey Hope