Elizabeth Parkes – It really is such an incredible opportunity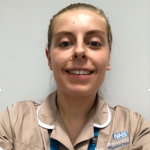 What have you learnt as a NA/TNA?
So far, I have learnt an incredible amount as a TNA and from so many aspects! Prior to starting the programme, I had never worked within a nursing team and so a lot of the knowledge I have gained relates to providing excellent fundamental nursing care.
However, being given the freedom to drive my own development has meant I have been able to book myself onto training courses and study days that deepen my knowledge and really appeal to me. Two favourites being the venepuncture course, and a seminar surrounding children's mental health.
I have started to really understand what it means to be wholly compassionate and I have made a conscious effort to integrate compassion into all aspects of my practice. By doing this I have been able to learn so much about my patients and what the patient needs to feel secure and looked after. I have also learnt about/improved my communication skills, both with patients and with all members of a Multi-disciplinary team.
Finally, I have learnt how important it is to try and close the gap between patients and nurses (whilst remaining professional of course). I have found the most contented patients always seem to have genuine interaction with their nurses, recognising there is a person beyond the nurse and vice versa. This can only happen if we act genuinely, from human to human as well as nurse to patient.
It is lovely how impactful a smile can be.
What would you say to anyone who's worried about how much they'll have to learn? 
Don't be!! Sounds easier said than done. There is an overwhelming amount of support available to you as a TNA – the University, designated support/education staff within the Trust, colleagues from all roles and mentors/managers. At the end of the day I like to think we are all here because we have the same passion to help people, and that includes each other.
I was anxious starting the programme as I have always had to really work for my grades, never been the gifted type who can read a textbook page once. But the learning is all delivered in manageable chunks, which makes it really easy to get your head around. I have found that it really helps going to University and working at the same time, you can put your knowledge into practice in real situations.
At the end of the day, of course there is a lot of information to learn but I think having a real drive to develop your knowledge coupled with the support available means it is very manageable.
What's been the best thing in your TNA/NA journey?
I have been pleasantly surprised from the start how much confidence patients have in me, and how grateful they are when I try my best to help them. I didn't go into this programme with the expectation or hope of constantly being praised and thanked for trying to make a difference to someone's life, so I think I will always be grateful when a patient says thankyou or remembers me from the shift before and stops to ask how I'm doing.
Sometimes it can be overwhelming/emotional when a patient makes you feel like you have made a valuable contribution to their day, week, month or life, there is just something so fulfilling about being a TNA.
In summary, the best thing in my journey so far has been the direct contact I have had with patients. From chatting about their life and family, to helping them in the shower and coming out more drenched than they are, it has felt like a privilege to be confided in and depended on.
What would you say to somebody who's interested in becoming an NA/TNA?
Don't hold back!
It really is such an incredible opportunity, from the role itself to the way that the programme is designed and allows you to stay employed while training. Whist I am one of the younger female members of the cohort, there are male and female TNA'S of all ages on the course. I genuinely believe it is suitable for all demographics as long as you are strongly focused and can be committed to patient care.
Can you sum up in one sentence what's so special about being a NA/TNA?
As a person I centre myself on believing that the most important legacy you can leave behind is the way that you treat other people; I find it special being a TNA because I am able to make a considerable change to how both patients and their families feel.