Estherine Lewis – recently graduated as a nursing associate.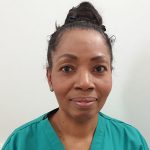 Estherine Lewis, 53, from east London recently graduated as a nursing associate and works at the Royal Free London NHS Foundation Trust:
"I was a senior nursing assistant in endoscopy before I began my nursing associate training in January 2017. I heard about the role from a clinical practice educator in my trust and it interested me as I saw it as a chance to develop new skills, and I could see the progression to becoming a registered nurse.
"The exposure I got to different clinical areas during my training was invaluable to me and I feel all of my training will benefit me as I move towards my goal of becoming an advanced nurse practitioner.
"To do this role you need to be compassionate, demonstrate professionalism and be willing to learn new skills and knowledge. It can be a challenge to complete assignments, work and keep up with everyday life all at the same time, but it's definitely worth it."