Connie Pickles – Qualified January 2019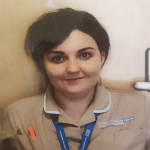 What have you learnt as a NA/TNA?
As a Nursing Associate, I feel I have gained a wealth of knowledge and evidence base to assist me in providing the highest level of care to patients, I now understand the purpose of questioning and interpreting to ensure the patient receives the best levels of care.
What would you say to anyone who's worried about how much they'll have to learn? 
Learning new skills and knowledge can never be a negative; it helps empower you as a health care professional and gives you the tools to provide the best levels of care. Learning takes time it won't all come over night and you will never know everything especially in this profession, you are continuously learning throughout your TNA journey and you will continue to learn as a qualified nursing associate.
What's been the best thing in your TNA/NA journey?
Caring for patients, being a bedside healthcare professional, Being a patient advocate. Being initially a support worker it's been rewarding building on knowledge learning the evidence of why we do the interventions we do, questioning why? And how?
What would you say to somebody who's interested in becoming an NA/TNA?
I would say it will be a very up and down journey, with real highs and lows but to finish as a qualified nursing associate and register with the NMC, after the 2 years of hard work is incredibly rewarding but to see patients respect you and appreciate what you have done for them is the biggest reward
Can you sum up in one sentence what's so special about being a NA/TNA?
Being at the forefront of patient care, being at the patient's bedside, and advocating for patients. Providing care with new knowledge and skills from becoming a nursing associate.