Andrew Lynch – training as a nursing associate while working in paediatrics.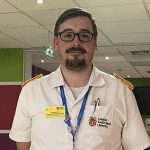 Andrew Lynch, 30, from Collindale in north London, is currently training as a nursing associate while working in paediatrics at St Mary's Hospital, Imperial College Healthcare NHS Trust:
"I've worked in healthcare for around 10 years or so, from nursing homes to oncology. I previously worked as a healthcare assistant and healthcare support worker, but I've always wanted to work in nursing.
"I wasn't able to get into nursing until this programme came along. I wanted to do more within my role as a healthcare assistant and was limited by my education, but not by my knowledge. I wanted to put the knowledge and experience I've got into becoming a nursing associate and that was the real drive for me.
"Being an apprentice nursing associate has allowed me to be very hands on with my studying, so I can go to university one day and put my knowledge into practice the very next day. What I'm learning at university I'm actually able to put into practice while I'm on the wards. Being a very 'hands-on' learner, I tend to remember things more that way.
"I've learnt that there's a reason we do everything for our patients. This role makes me look at why I'm doing it, rather than just being told to do something. I'm looking at the impact on my patient, on the service and on the organisation as a whole.
"I'm also a volunteer first aider with St John's Ambulance and I'm a unit manager – so I'm in charge of a group of first aiders and cadets. This does take a fair bit of my time, but a lot of what I'm learning, in terms of communication with patients, I'm putting into practice with those patients and cadets that I see on duties. The nurses I work with at St John's have also been helping me with academic work.
"I think a volunteer role can help with your confidence as you're almost thrown into the deep end when it comes to dealing with patients. You do get times where it gets crazy and you have to manage your workload, which you do with uni and work, and you have to communicate well with your patients, which you do in work, and also you have a big team you work with, so anything voluntary wise would be beneficial as a trainee nursing associate.
"I think anyone who wants to get into nursing already has a natural caring demeanour about them, so it wouldn't be too difficult for someone without previous healthcare experience to go into the nursing associate role, because you go into this because you want to help people. The learning is a lot to take on board but you'll be surprised how much you remember when it comes to putting that into practice.
"Anyone thinking of becoming a nursing associate should go for it. It's a lot of work but it's great fun. You're able to expand on the knowledge you may have already and put that learning into practice. You make some great friends along the way, it's not just all academic – you get to have a laugh as well, which makes the learning more enjoyable. It's a lot of hard work but if you're passionate about your patients and care, it's definitely something worth doing.
"Nursing associates are at the forefront of change within the NHS and I believe this is a role that's going to be new, and it's going to be scary, but at the end of day it's going to be beneficial for our patients and for the organisations that we work for."